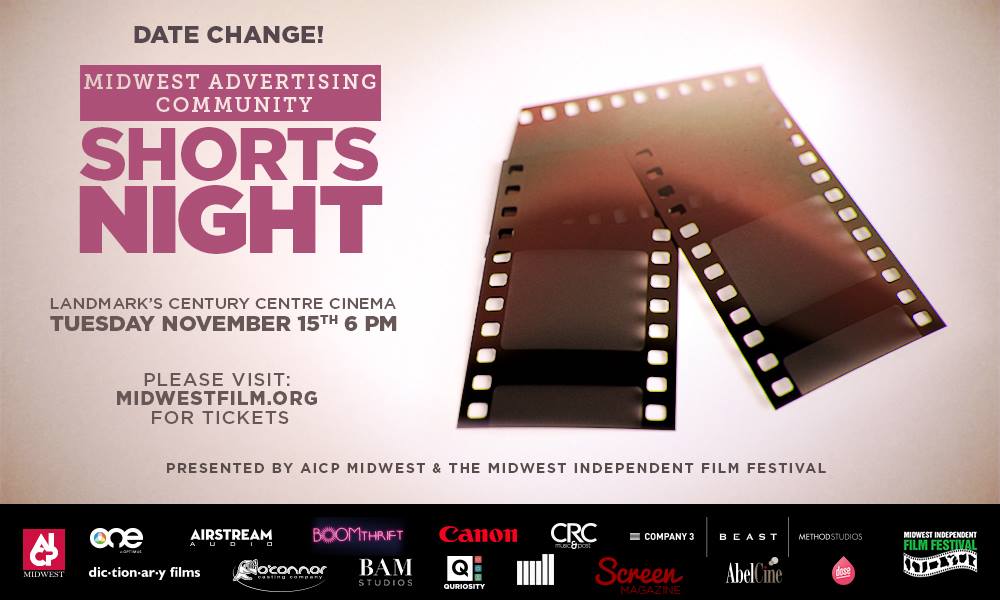 Tonight is an exciting night for the Midwest Independent Film Festival as they are screening their popular Advertising Community Shorts Program! BAM Studios is elated to sponsor the event that includes work by so many familiar faces! The night takes place at the Landmark's Century Centre Cinema at 6:30 pm CST, opening with the producer's panel!
Check out the list of shorts that are showing at the Midwest Independent Film Festival below!
GAS. WORLD PREMIERE! A short film about thinking and talking. From commercial director Steve Delahoyde and Ogilvy & Mather Associate Producer Sara Martin, starring David Pasquesi and Marc Grapey.
HELL. WORLD PREMIERE! John Malkovich recites Plato's "Allegory of the Cave" while illustrations depicting humans' worst atrocities animate around him. Directed by Sandro Miller, edited by Craig Lewandowski, with graphics by Ryan Gilbert and sound design by Brian Leitner of Chicago-based Utopic.
LADY OF THE HOUSE. WORLD PREMIERE! A once promising opera singer finds herself years later as a stay-at-home mother. Written and directed by Brad Bischoff, a commercial director/editor currently working with mcgarrybowen. Shot by commercial cinematographer Casey Bohrnell and colored by Company 3's Tyler Roth.

OUT FRONT. WORLD PREMIERE! Crippled by anxiety and indecision, Alex finds himself at the crossroads of who he is and who he wants to become. Co-directed by R/GA Producer Nicole Poull and editor Stephania Dulowski.
WATERBOY. WORLD PREMIERE! A busboy is determined to refill a young woman's glass of water…no matter what. Written and starring Bex Marsh and Eddie Mujica. Directed by Jeff Hadick who is a freelance director working with Second City Works and produced by Nicole Bishop who is the Director of Production, Creative Services at the Second City.
MARKOVISION. WORLD PREMIERE! This is a film about artist Marko Markewycz and the way he sees the world. Directed by Amanda Speva, who is represented by One at Optimus, edited by Max Mooney of The Whitehouse, cinematography by Michigan-based DP Kyle Bainter, produced by Emma Jubinski of One at Optimus, with additional finishing by Optimus and color by Nice Shoes.
EXONERATED. CHICAGO PREMIERE! A look into the lives of five people who spent as much as 23 years in jail for crimes they did not commit. Directed by commercial photographer Andy Goodwin, edited by Patrick Duffy at Cutters.
NO OTHER WAY TO SAY IT. FESTIVAL PREMIERE! Director Tim Mason pulls the curtain back on the glamorous world of advertising in this short comedy about a voiceover actor trying to nail the right tone for a pair of indecisive ad creatives selling a fictitious children's ice cream brand. Executive produced by Lisa Masseur and Ron Lazzeretti, produced by Hog Butcher and Optimus.
SPINTRONIC. CHICAGO PREMIERE! Freelance commercial producer Lori Bohner explores the mind of public sculptor Nicole Beck. Nicole creates public art on a grand scale representing large ideas such as the representation of harnessing the energy found in a black hole..
MY "BEST FRIEND," ACCORDING TO HIM. CHICAGO PREMIERE! A man tries to remain zen after he is forced to carry his complaining co-worker around for the day. From One at Optimus commercial director Logan Hall and Josh Anderson, shot by Lawrence Daufenbach, owner of Daufenbach Camera.
EGO WRECKING BALL. FESTIVAL PREMIERE! Music video for Michigan band The Bangups by Grand Rapids production house Gorilla.
VICTOR. CHICAGO PREMIERE! From Detroit production studio Yeah Haus and director/editor Chad Thompson, VICTOR is a short film about imagination, solitude and the sometimes blindfolded quest for happiness.
MY DAY. FESTIVAL PREMIERE! 84-year-old Foxy Grammy lives life the only way she knows how: sippin' champagne, throwin' dice, and bouncin' through the hood in her purple low-rider. From the commercial directing team of McCoy | Meyer, comprised of Chicagoan Eric McCoy and fellow Columbia College Chicago alum Justus Meyer.
GRAVEYARD. FESTIVAL PREMIERE! While the rest of the world sleeps, a Custodian and a Security Guard share revelations, epiphanies, confessions, lies, and whatever else they can think of to keep from dying of boredom before the sun comes up. Created By Ron Lazzeretti, David Pasquesi and Christian Stolte. Starring the latter two.
THE MASTER GARDENER. FESTIVAL PREMIERE! Documentary super-short from commercial production house Explore Media.
FRED. CHICAGO PREMIERE! Who disturbs my slumber? Animated super-short from Midwestern motion design studio leftchannel based in Ohio with offices in LA and Milan.
REMEMORATION. FESTIVAL PREMIERE! Chicago based Punk Rock band Daylight Robbery's debut music video from their third LP, "Accumulated Error." Written and edited by the band's bassist/vocalist Christine Wolf of Whitehouse Post, color by Maria Carretero at Carbon.
NO MATTER WHERE WE GO. FESTIVAL PREMIERE! This music video for the band Whitney is all about young love in their hometown of Chicago. Directed by Chicago's Alan Del Rio Ortiz of Pomp & Clout and graded by Mill Chicago's Head of Colour Luke Morrison.
Check out the Midwest Film Festival's website for more details on upcoming events! http://www.midwestfilm.com/pages/home/1.php