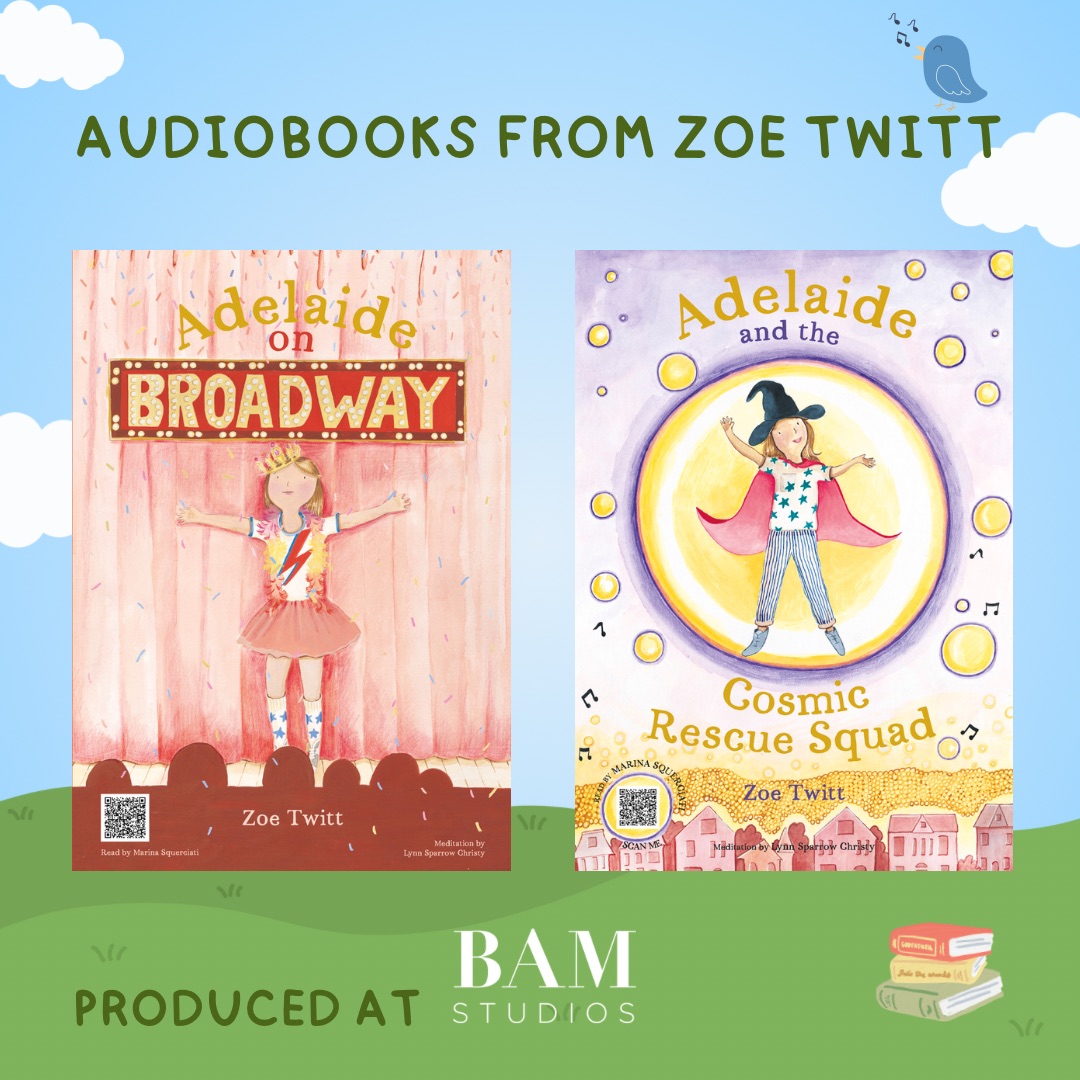 Anticipation builds for the upcoming release of author Zoe Twitt's latest books, «Adelaide on Broadway» and «Adelaide and the Cosmic Rescue Squad»! Congratulations Zoe! 🙌  And congratulations to our exceptional sound team for producing an immersive soundscape for the audiobooks. It was truly an enjoyable project, and soon listeners will have the pleasure of experiencing it firsthand.** 🎧  Actress Marina Squerciati delivered an exceptional performance as the narrator, bringing the characters to life, while master hypnotherapist Lynn Sparrow Christy narrated the meditation portion. We are excited for readers and listeners to experience the magic of these stories. Zoe Twitt's writing is sure to captivate audiences of all ages with its creativity, wit, and adventure.
🎭 «Adelaide on Broadway» follows Adelaide and her friends as they navigate nerves and the super duper jittery jitters while performing a play. Adelaide on Broadway features anytime warm-up exercises (like humming, singing and telling funny jokes) designed to help children get calm and centered before performing or speaking in front of others.
🦸‍♀️ «Adelaide and the Cosmic Rescue Squad» follows Adelaide and her friends on Halloween, as they go trick-or-treating. As it gets dark, Adelaide's stomach begins to hurt and her heart starts beating faster. Suddenly, a tiny witchlet named Zara appears in a golden bubble with some good advice for Adelaide and her friends: She tells them to imagine themselves inside a glittering golden bubble. She shows them how to spread the golden light all around, to help others who are also scared of the dark. 🫧
Zoe Twitt is a children's book author from Victoria, Australia. She graduated from University of Melbourne with a degree in Creative Writing and began creating children's stories after the birth of her son Angus.
Author: Zoe Twitt
Narrator: Marina Squerciati, @marinasqu
Meditation Narrator: Lynn Sparrow Christy
Publisher: Enchanted Press, @enchantedpress
Audio Engineer: Matt Sauro
**Expected release September 1, 2023