Talented singer/actor Daveed Diggs recorded ADR at BAM for Season 3 of Netflix's hit comedy show, Unbreakable Kimmy Schmidt! Audio Engineer Matt Sauro managed this ADR session with Daveed in BAM's ADR Stage A.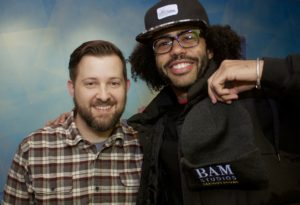 Daveed is known for his work as Marquis de Lafayette/Thomas Jefferson in the Broadway Musical "Hamilton". He won a Grammy Award along with a Tony Award in 2016 for his performance. In addition to this, Daveed has played the role of Johan in "Black-ish" and as Adult Books in Netflix's "The Get Down".
Click on the Image Above to Watch the Teaser!
Unbreakable Kimmy Schmidt is hitting its 3rd season on Netflix! This show focuses on a woman who starts her life anew in New York City after getting rescued from a doomsday cult in Indiana. The new season is set to premiere on May 19, 2017! Hang up the Pinot Noir and get ready for some Lemonade in this announcement date teaser from Netflix!
To view more of Daveed Diggs' work go to: http://www.imdb.com/name/nm4377526/?ref_=nv_sr_1
Learn more about Unbreakable Kimmy Schmidt here: http://www.imdb.com/title/tt3339966/combined
View more of BAM's television based work here: https://www.bamstudios.com/work/