Brian Reed and the BAM Team sound designed and mixed the powerful "Maya Angelou: And Still I Rise" documentary set to premiere Nationwide on PBS! This documentary has spent over a year in the film festival circuit! It was showcased at top of the line film festivals such as Sundance, AFI Docs, and even Full Frame Documentary Film Festival. The BAM Team worked alongside the film's directors, Rita Coburn Whack and Bob Hercules, to emulate the vision they desired for the Post Audio. It was a successful collaboration, and the BAM Team is so proud of the documentary's journey!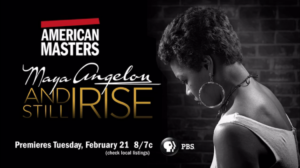 This feature documentary on the legendary poet/activist is now set to premiere nationwide on PBS' American Masters program! American Masters is a series examining the lives, works, and creative processes of outstanding artists. You can catch "Maya Angelou: And Still I Rise" at 8 PM on PBS!
Watch the trailer below!
Learn more about the film here: http://www.pbs.org/wnet/americanmasters/maya-angelou-film/7533/
Check out more of BAM's narrative film work here: https://www.bamstudios.com/work/