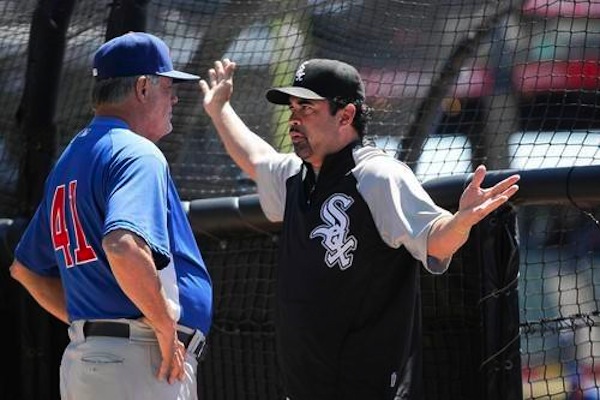 BY LEWIS LAZARE Sun-Times Columnist
At mid-afternoon on Friday, Mike Demaio and his post-production crew at Media Nexus/Chicago were STILL putting the finishing touches on the big rap-off spot starring Cubs manager Lou Piniella and White Sox manager Ozzie Guillen. The commercial is the centerpiece of the first dedicated television ad campaign for the Chicagoland and Northwest Indiana Chevy Dealers Association in nearly a decade.
Demaio was hoping the spot would have its world premiere on air Friday night, but he conceded the commercial might not get its first public viewing until Saturday, halfway through the first weekend of the much-anticipated crosstown showdown between the two division-leading Chicago baseball teams.
When last we talked Friday, Demaio sounded satisfied with the (nearly) finished spot — especially given how tricky it was to piece together the raps of the two managers who recorded their respective parts at separate sessions. To make sure the finished edit would work, a stand-in had to feed the other manager's lines at each recording session. Appropriate images reflecting the lyrics were digitally added behind the visuals of Piniella and Guillen in the final stages of post-production, adding more complexity to the effort.
We were given an 11-second snippet from the nearly completed spot to view Friday, and Piniella impressed us with his emphatic and commanding attack on his part of the rap. Guillen may have had a better feel for the essence of the rap style, but Piniella — based on what we were able to view — made the stronger impression. For the record, John Komnenich directed the rap spot, and Rino Liberatore provided the lyrics.